A healthy vegetrain salad, full of proteins and easy to make. The Grilled Red Peppers, Feta and Quinoa Salad is perfect for a quick and light lunch or as a delicious addition to a dinner party menu. Try it with a drizzle of De Nigris Balsamic glaze.
Ingredients for 4 People
2 red peppers
7 oz. quinoa
7 oz. feta cheese
2 fresh oregano springs
Olive oil, to taste
Salt and pepper, to taste
De Nigris Balsamic galze, to taste
For the recipe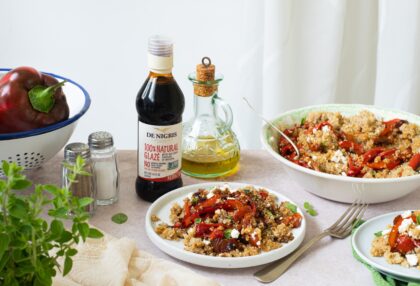 ​Cut peppers into thin slices, drizzle with oil, salt and pepper. 
Adjust peper on a baking tray, with the skin facing downwards,  cook until soft and slightly toasted.
Wash the quinoa under cold water, place it in an pot and cover with water – at least double the quinoa's weight – boil and cook for 2 minutes. Once ready, leave it to cool for 15 minutes. 
Place the quinoa with oil in a bowl and fluff with a fork. Add peppers, feta cheese in cubes and oregano. Garnish with De Nigris Balsamic glaze.